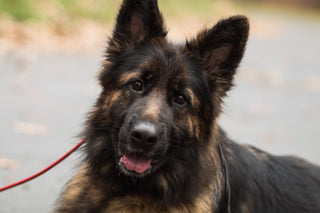 AVAILABLE: ellie
Ellie is a long-haired 2 year old German Shepherd who absolutely loves people!  She is young and full of life and has so much love to give.  Ellie was surrendered to us because she has a very high prey drive making her a better fit for a single-dog household or one with only large dogs!  
Although she is young, her obedience has been tested time and time again.  She knows: sit-stay, down-stay, place, recall, and can heel!  To make her even fancier - she knows it in German too!  She has been to restaurants, Home Depot, Lowes, Downtown Fredericksburg and more!   
She is incredibly intelligent, cuddly as can be, and highly motivated by both food and toys.  You will not find a cuter headtilt! Ellie now lives with her new brother, Riot, another prior Woof Gang Rescue & Rehab Dog, and gets to travel around the world with her new mom!!