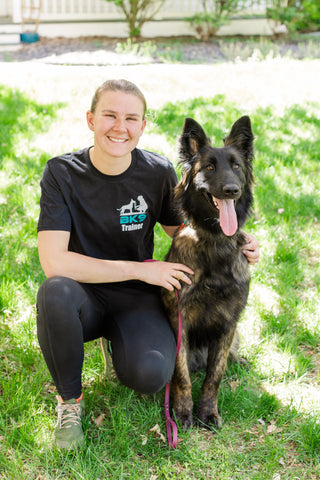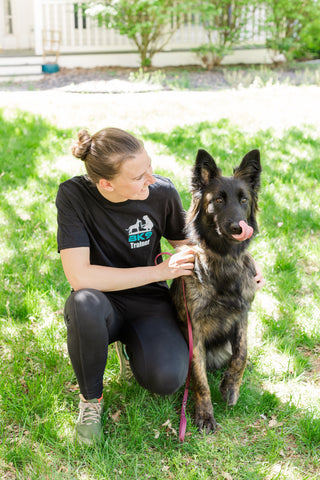 assistant head trainer
Eliza has been with Blackhawk K-9 since its first month in operation. She has quickly worked her way up the training chain and is now the Assistant Head Trainer. Eliza specializes in Service Dogs and task training! While Eliza can be found taking dogs on a long walk down the street, Guinness is an incredibly special dog that can be found playing fetch with a leaf.
Eliza has always had a passion for training dogs since a young age. She began her dog training experience in high school by volunteering at a local non-profit training service dogs for veterans. Shortly after graduating, she moved into a full-time role as a lead trainer for many years specializing in the selection, raising, and task training of a wide variety of PTSD and mobility service dogs. Eliza has helped develop service dog
training programs that assist people with disabilities for her most of working career. Wanting to expand her skill set beyond service dogs she attended Highland Canine School for Dog Trainers. During the 24-week Master Dog Trainer Program, she studied a variety of training methods, the practical application of behavior modification and obedience training, as well as nutrition and first aid/CPR for dogs. This experience provided her with the opportunity to train a diverse set of service dogs, aggression cases, and introduced her to the world of detection with a focus on search and rescue! Eliza strives to help your dog find its confidence and strengthen the partnership between you and your dog. She currently holds a certificate through the Certification Council for Professional Dog Trainers (CCPDT) and is a certified AKC CGC evaluator.

In her free time, Eliza can be found training her malinois in Search and Rescue specializing in cadaver recovery. She also owns a German Shepherd and Cavalier King Charles Spaniel.