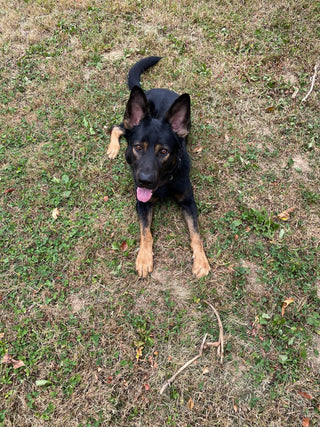 adopted: bronx
Bronx is an incredibly special dog that is not available to the public.  He is only being considered in sport dog or working dog homes.  
Bronx is a 1.5 year old German Shepherd that came to us from a pet dog home.  He has been through a lot of e-collar trauma and is working on being reconditioned.  He is dog aggressive and needs a very experienced handler. 
He has great hunt drive and has shown himself to be incredibly talented when it comes to hunting regardless of the object.  He has been introduced to hunting for food, balls, and PVC pipes. In order to not close any doors for him, we have decided not to imprint him on any specific odor as of yet, but instead have been focusing on building hunt drive in him. He has been tested in dark as well as small spaces and showed no hesitancy. 
He has started biting sleeves and has a full grip with nice counters.  Bronx has not shown any discomfort with any of the tools we have introduced him to on the bite including whips, cans, and clatter sticks. 
He has great environmentals and he can be worked through any obstacle using either his food or ball drive. 
If you are interested in Bronx, please fill out the application through Woof Gang Rehab and Rescue.