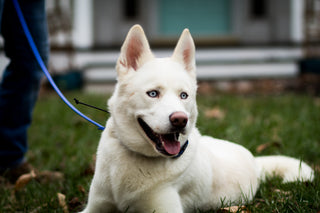 adopted: Ghost
Ghost is a beautiful 1 year old Siberian Husky who was surrendered to Blackhawk K-9 due to no fault of his own.  His previous owner's father no longer wanted hair in the house so he was surrendered to us.  We then contacted Woof Gang Rehab & Rescue to make sure that we had the support of the professionals to find him the best possible home.  
Ghost is a big boy who needs a family that will be dedicated to meeting both his physical and his mental needs.  He loves to run and play and act like a puppy, but he is a sucker for a belly rub!  His bright blue eyes speak to his intelligence and he is always excited to work.  He has mastered the art of sit-stay, down-stay, place, recall, and heeling.  We have taken him to a few different outings at Home Depot and Lowes and he did amazing!  We will continue to test and develop his skills over the time he is with us until we find his perfect match.  
As far as other dogs, Ghost is playful, but he is a dominant dog so he can be pushy and will need to be separated when that happens.  With his obedience, he can easily be recalled out and back to your side to allow him a reset.  At his previous owner's home there were children and he was great with them.  As he has gotten bigger, we do have concerns that he may accidentally knock a small child over so if you are interested in meeting him but have children, we will want to make sure it is safe first. 
Ghost was with us from September until he found is furever home in February!